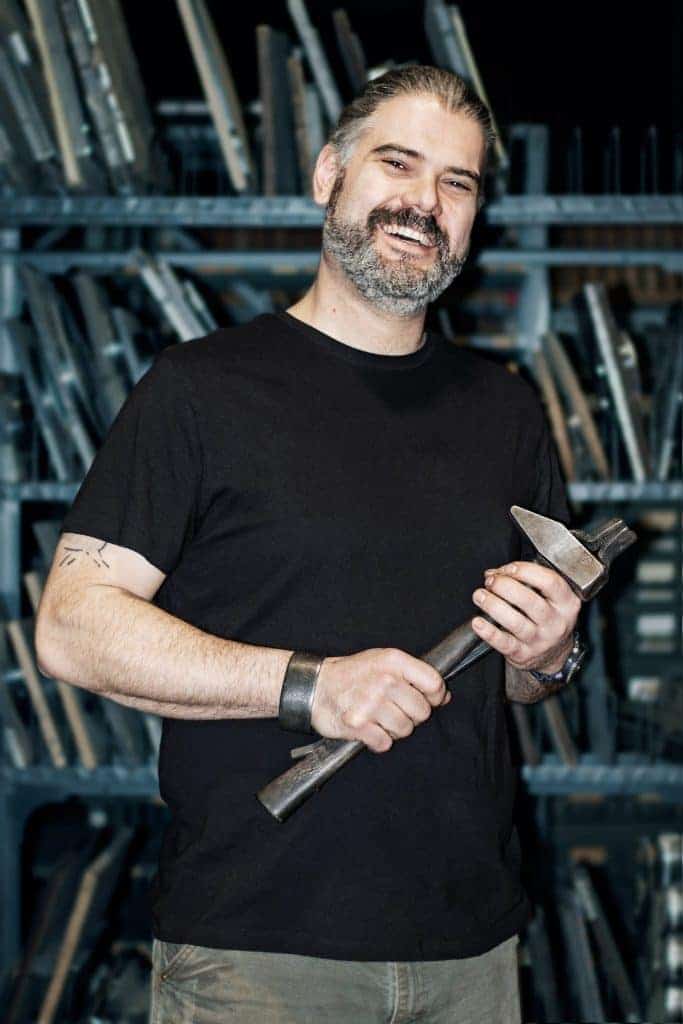 "From the time I knew that there was such a thing as a custom knifemaker, I was sure that I wanted to be one."
Nick's interest in metalworking began with a boyhood fascination of knives and swords. At the age of 15, he started working at one of the state's largest cutlery shops and was introduced to the world of custom knifemaking by local craftspeople. With the combination of books, advice and seminars, Nick developed his skills as a bladesmith and began selling his work under the "Rossi Knives" name.
"From the time I knew that there was such a thing as a custom knifemaker, I was sure that I wanted to be one. Not growing up in a terribly mechanical family, I was sort of left alone to figure it out for myself. I assumed that metallurgy, machining and woodworking would be the knowledge base required, but it was the peripheral knowledge that solidified my decision. Sociology, history, material science and industry became equally important to me. It became readily apparent that this 'hobby' would provide me with several lifetimes' worth of study and research. There was no turning back…"
In 2003 Nick's work was featured in Downeast Magazine's "10 Cool Gifts from Maine," and in 2006 he began teaching bladesmithing at the New England School of Metalwork. Nick continued to operate Rossi Knives on a part-time basis while employed as a sales engineer for a local technical fabrics company until he was offered a full-time position at NESM in 2011 where he worked as an Instructor and Assistant Program Director until 2020.  
Nick now operates Nick Rossi Knives full time out of his studio in Vassalboro, where he creates dynamic, one-of-a-kind cutlery. Nick's work is most influenced by Japanese, Southeast Asian and Scandinavian design as well as architecture, fine art and nature. Nick is a certified  Master Bladesmith in the American Bladesmith Society, a member of the Maine Craft Guild, the Maine Craft Association, the Portland based Metals Collective and a member of the New England Bladesmith Guild. Nick teaches workshops and gives demonstrations all over the country.